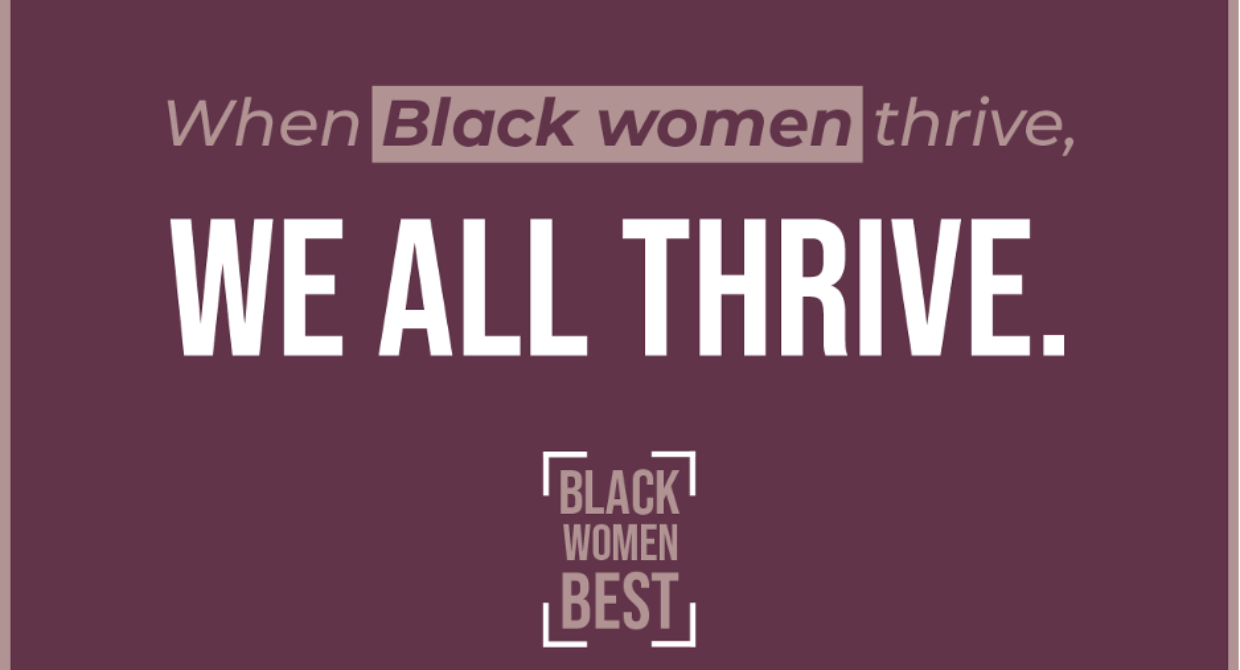 Coined by Janelle Jones in 2019, the Black Women Best (BWB) framework argues that if our government brings Black women from the margins to the center and intentionally creates policies that pull Black women out of economic precarity and into economic prosperity, then everyone will benefit.
In partnership with the Congressional Caucus on Black Women and Girls (CCBWG), Liberation in a Generation (LibGen) collaborated with over 40 Black women contributors to develop An Economy for All: Building a Black Women Best Legislative Agenda, a congressional report inspired by the Black Women Best framework. LibGen Senior Policy Manager Azza Altiraifi and Communications Director Kendra Bozarth served as co-chairs of the caucus's BWB Working Group, spearheading this visionary endeavor.
The report outlines a clear policy agenda to address inequities that have disproportionately burdened Black women and girls — delivering an inclusive economy for everyone in the process.
Learn more about Liberation in a Generation.
Black Women Best Framework
Action Center on Race and the Economy
African American Juvenile Justice Project
Alexes Harris, University of Washington
Angie Ngo, BerlinRosen
Black Leaders Organizing for Communities (BLOC)
Black Voters Matter
Center for Advancing Racial Equity & Job Quality in Long-Term Care (Center for Equity)
Center for Law and Social Policy (CLASP)
Coalition for Equal Access for Girls – Oregon
Demos
Detroit Disability Power
Family Values @ Work
Greater New Orleans Housing Alliance (GNOHA)
HousingNOLA
Insight Center for Community Economic Development
Jamila Michener, Cornell University
Just Harvest
Justice for Families
Liberation for Us
Liberation in a Generation
Miami Workers Center
Dr. Michelle Holder, Washington Center for Equitable Growth & John Jay College, City University of New York
One Colorado
Princeton Theological Seminary
Sherri Jefferson, African American Juvenile Justice Project
State Innovation Exchange (SiX)
Southern Economic Advancement Project
Springboard To Opportunities
Stacey Triplett, Groundwork USA Board Secretary
The South
Youth First Initiative
An Economy for All: Building a Black Women Best Legislative Agenda Report and Black Women Best Seal of Approval Scorecard
Action Center on Race and the Economy (ACRE)
African American Juvenile Justice Project
Alexes Harris, University of Washington
Andreanecia M. Morris, HousingLOUISIANA
Angie Ngo, BerlinRosen
Black Voters Matter
Center for Advancing Racial Equity & Job Quality in Long-Term Care (Center for Equity)
Center for Law and Social Policy (CLASP)
Coalition for Equal Access for Girls – Oregon
Demos
Detroit Disability Power
Greater New Orleans Housing Alliance (GNOHA)
HousingNOLA
In Our Own Voice: National Black Women's Reproductive Justice Agenda
Insight Center for Community Economic Development
Jamila Michener, Cornell University
Just Harvest
Liberation for Us
Liberation in a Generation
Dr. Michelle Holder, Washington Center for Equitable Growth & John Jay College, City University of New York
One Colorado
Princeton Theological Seminary
The Sadie Collective
Sherri Jefferson, African American Juvenile Justice Project
Southern Economic Advancement Project
Springboard To Opportunities
Stacey Triplett, Groundwork USA Board Secretary
Tanja Pauler
The South
Youth First Initiative